There are three different types of placement on the Google Search Engine:
Pay for Placement – this is when you pay the search engine directly through Google Pay Per Click, or Ad Words for placement on the search engine. With this type of placement your basically bidding on keywords … in short if you bid more than your competition you will rank higher
Google Local Placement (aka Google My Business) – this will place your site in-between the pay for and the SEO rankings. This placement is FREE.
SEO Placement – SEO is the art of optimizing your web site to be visible and ultimately ranked on search engines by means of an organic method, or natural selection.
Getting Listed on Google My Business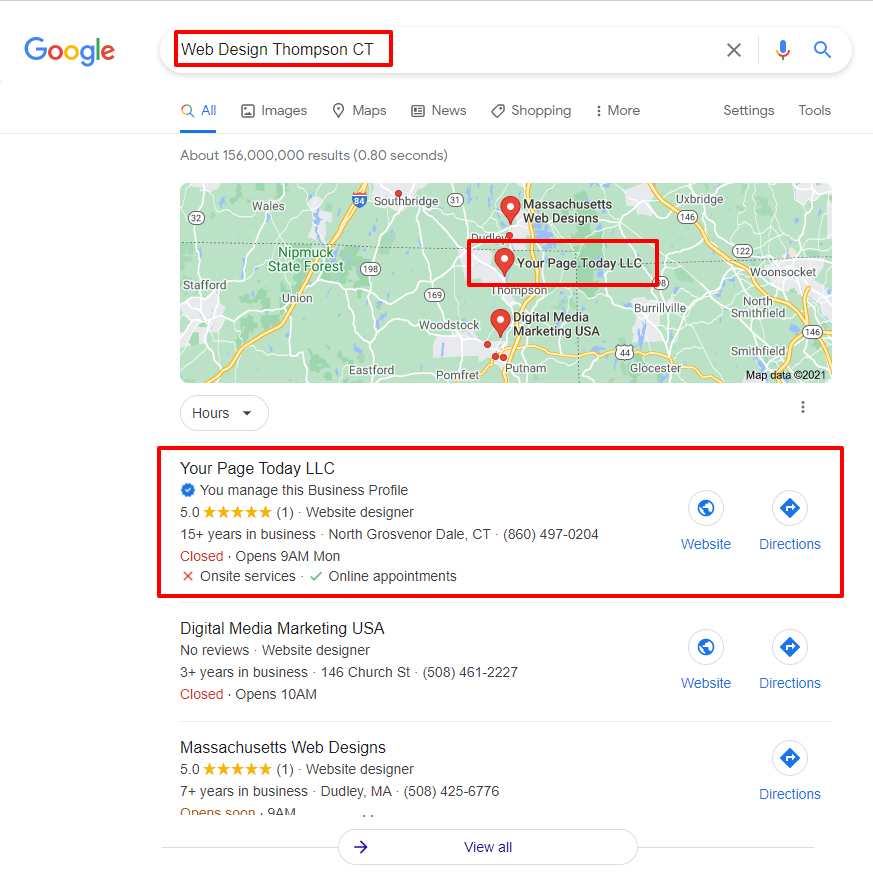 Did you know that consumers are now depending on Google Search in order to find local businesses? If you're small business is not currently listed on Google My Business it absolutely should be. Otherwise, your competition will get to your potential customers or clients before you do. For example, when someone within your local area searches for a local service, such as "Insurance Agents in Boston, MA," Google immediately calculates all of the data that it knows about those particular search terms. The end result is a precisely organized list of companies that meet those criteria appears on your potential customer or client's screen.
The bottom line is that you want to be on that list. In essence, consumers can quickly and easily see how your business is rated by others, read customer/client reviews, and check out your hours of operations. It can go a long way in helping them decide whether or not they want to do business with your company. Google My Business listings are an incredibly influential way to increase your search engine visibility. It can help you gain more customers or clients who are looking for local businesses like yours.
So now much money do you think it costs to list your business on Google My Business? Will the investment cost you hundreds of dollars, or thousands of dollars? The good news is that listing on Google My Business is absolutely FREE. So, how do you get started? It's easy. Simply follow the instructions as listed below….
Step 1: Sign in to Google My Business at www.Google.com/business. You can sign in with a pre-existing Google account or you can create a new one. It's always a smart idea to sign up with your business email domain.
Step 2: Add your business by entering your business name. If it doesn't appear on the drop-down menu click "Add your business to Google." Select the proper category for your business.
Step 3: Enter the location of your business. Select "Yes" if you have a physical location that customers or clients can visit. Add your address next. If your business does not have a physical address that customers or clients can visit you can list your service area.
Step 4: Fill in your business contact information by entering your business phone number and website address. If you use a Facebook or Linked In page instead of a website you can use that address.
Step 5: Finish your listing. Click on the Yes button if you prefer to receive notifications and updates. Next, click on Finish. Google will then ask you to verify your business.
Once your Google My Business account is set up, you need to verify your business. That means you need to request a postcard. Here's how to do it….
Step 1: Sign in to Google My Business at www.Google.com/business.
Step 2: Click on "Verify Now." If you happen to have more than one Google My Business account make sure to choose the right one.
Step 3: Choose the way you're going to verify your business. The default option is verification by mail. However, your business may be eligible to verify by phone or email. Fill in all of the required details. Make sure that you've filled in everything correctly before you submit the form. It may take a few weeks for the postcard to arrive. When you receive it the next step is to click or press "Verify Location" on the menu. Enter the five-digit verification code that's include on your postcard. Once you complete the process it make take a few weeks for your business listing to start appearing on Google.